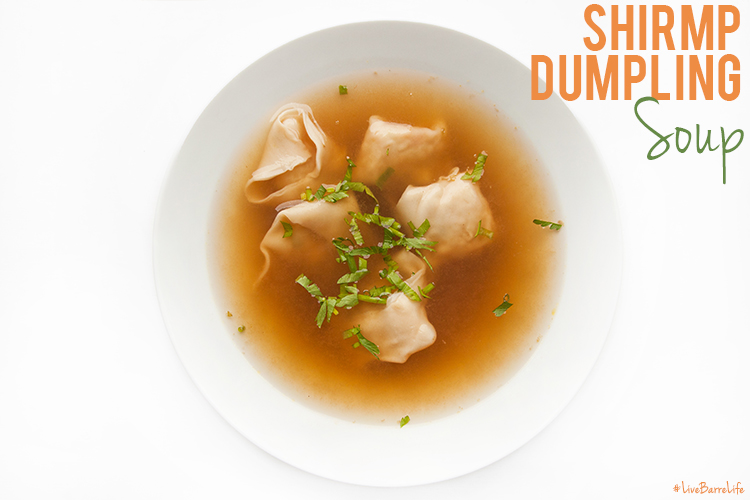 It's "Tasty Tuesday", where every week we bring you new, fresh, local, healthy recipes and food tips. Find out what is in season, and what will keep you fuelled during and after your work outs!
Okay, I know it's not TECHNICALLY winter yet, but the amount of layers I'm wearing, and the desire to hide inside with sweatpants just makes me want all kinds of varieties of soup.
I was craving a wonton-esque soup recently, and dug up this recipe that I had because I had leftover lemongrass from this Thai Noodle dish we just made. I've had allergic reactions to most wonton soups that I've had, so, much like when I made the miso soup, I knew making it from scratch meant I can control exactly what goes in here.
This is a big batch of soup and wontons, so make sure you have someone to share it with, and if you want to split it up over two days, cover the wontons well and put them i the fridge, and then cook them in the broth the next day - this way they won't get soggy!
Make Your Meal Even Healthier Tip:
The fresh herbs in this are really going to make this for you. Add them at the end and pile in as many as you'd like, and feel like you could kill a cold before you even feel sick!
And like I ALWAYS tell you, use your own, homemade soup stock, so you can control the amount of salt and spices you put in it!
Click through for recipe!...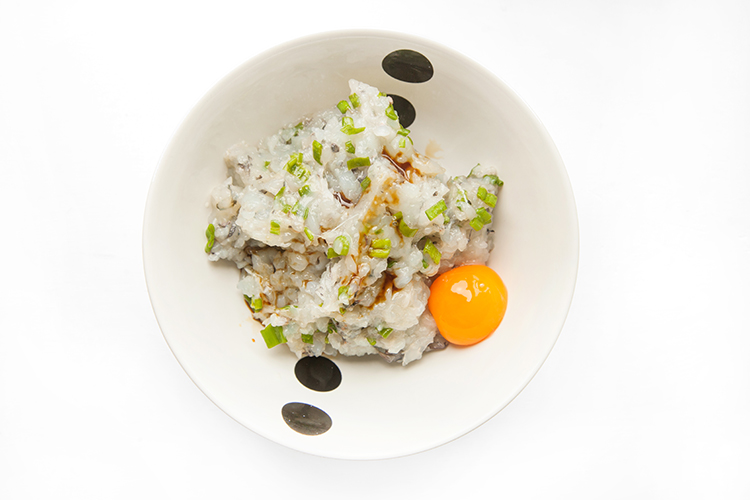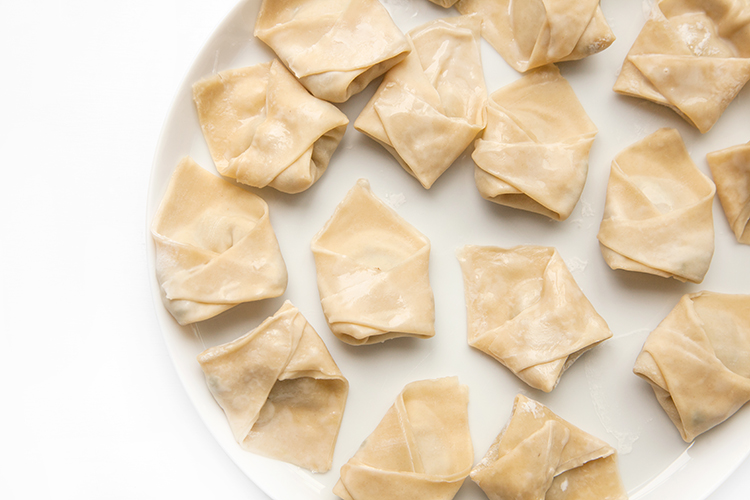 Serves 6
INGREDIENTS:
- 1 stick of lemongrass (about 2 4-inch pieces, cut in half and crushed slightly)
- 10 cups homemade vegetable stock
- 2 green onions finely sliced
- 1 large thumb of ginger, sliced thinly
- 1 tbsp miso paste
- 4 cloves of garlic, crushed and lightly chopped into a few pieces
- 500g OceanWise prawns (peel, deveined)
- 1 egg yolk (keep the white separated)
- 1.5 tsp liquid amino acid (Bragg's, or low sodium soy sauce)
- chopped herbs (parsley, chives, cilantro, you pick!)
- wonton wrappers (comes in a large package, but you need about 30-36)
INSTRUCTIONS:
Put the cut lemongrass in a large pot with the stock, ginger, garlic. I like to dissolved the miso paste with a little bit of the stock before adding it in as well.
Heat through, and then simmer altogether for about 25mins.
While this is being done, take the prawns, and place in a food processor and pulse until it has been finely chopped. (You can also do this by hand if you don't have a food processor.)
Stir in the egg yolk, green onions, and Braggs (in another bowl if necessary).
Now, there are several (seriously) ways you can fold your wontons...if you google it, maybe you find a technique that you prefer. The MAIN thing is --- DON'T OVER-FILL THEM! If you do, closing them will be a nightmare.
Have a bowl with the egg white, or just water, and place a wonton wrapper in your hand.

Put a teaspoon of the shrimp mixture in the centre, and then wet two edges, folding over to seal, in the shape of a triangle.
Bring the two corner edges of the triangle in, and overlap them, sealing with a bit of water and forming a tortellini or hat shape (see photo above). Place these on a piece of parchment paper while you make the rest.
When broth has finished simmering, scoop out the lemongrass, garlic and ginger chunks.

Bring the broth up to medium heat, and then drop in the desired amount of dumplings, cooking until finished (approx 6-8 mins).
Scoop the dumplings out and into individual bowls, add some fresh herbs and then ladle the broth over top.

(putting the herbs in the bowls means they'll stay fresh if you aren't using the entire pot of soup that day. if you ARE feel free to add the herbs in with the broth and dumplings, and then maybe sprinkle some on top for garnish).

ENJOY!
*** NOTE: I have not experimented with freezing the extra dumplings and then making them in the broth later, but next time i will, and I'll come back and update if it worked! ***
Let us know if you make this recipe by posting it on instagram or twitter and using the #LiveBarreLife hashtag! And if there are any specific meals, fruits, veggies, or meats, you'd like to see on the blog!
---
photos and recipe by: Christine McAvoy
--