Last week we gave you some of our picks for healthy and clean eating during the Dine Out Vancouver Festival, and now we're going to break a few of those down so you can see just how delicious the menus are. Try not to drool on your keyboards or phone.





Juniper
Chinatown
Price Point: $40

Vegetarian Options Offered: Yes
Vegan Options Offered: Yes
Gluten Free Options Offered: Yes


[Click through for more!]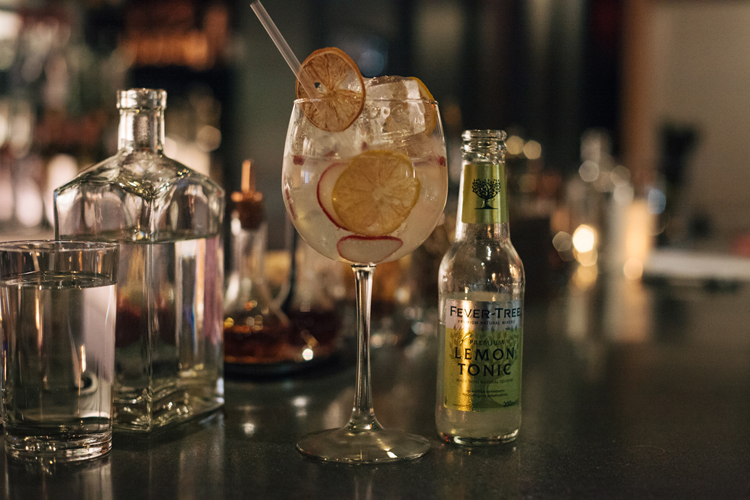 Juniper just recently opened it's doors in Vancouver's Chinatown district and is already getting rave reviews for it's cocktails and food. Their menu is always evolving but has core categories like "Fields and Forage", "Crock and Broiler" and "Puddle and Pond". The emphasis and idea behind the restaurant/bar is a focus on the Cascadia area & it's bounty, or, as they put it: "A vibrant distillation of the Pacific Northwest". So I was pretty excited to check out their Dine Out menu!

Juniper has a wide ranger of cocktails that are expertly crafted and incredibly creative. I was having a discussion with my bartenders about the small amount of calories in a gin & tonic. Upon further review (of course I looked into this), gin itself is about 97 calories for an ounce and a half. The tonic can be the tricky part as it can have a lot of sugar in it.

Luckily i knew what kind of tonic was being used: Fever-Tree Lemon Tonic (pictured above) and as luck would have it, they had the nutritional info on their website. So for the drink above (the "Rad-ish" Gin & Tonic made with Ampersand gin [from Duncan, BC], radishes, dehydrated lemon, pink peppercorn, and lemon tonic) it ran only approximately 133 calories (97 gin + 36 for half of that tonic bottle).
So as I always preach, if you know exactly what you're putting into your body, you can feel better about indulging once and a while!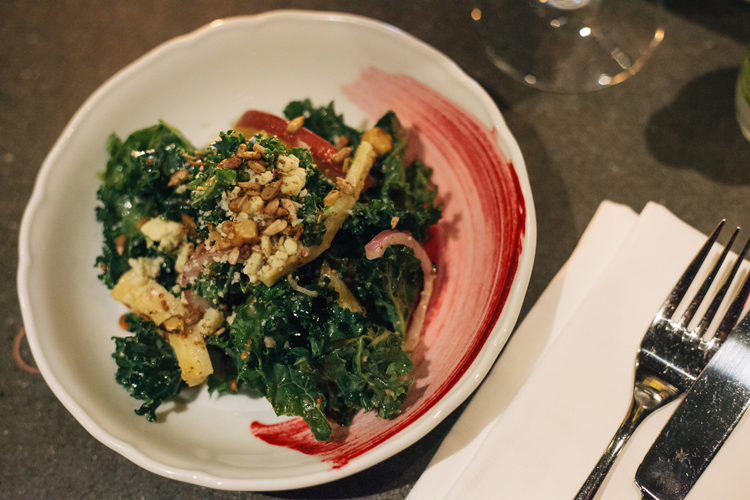 Appetizer:

Hazelmere Kale Salad - roasted parsnip, pickled apple, blue claire, spiced nuts, sherry vinegar

This salad was a tasty and light way to start the meal off. The sherry vinegar dressing was perfect and the nuts added a nice crunch. I think my favourite part was the roasted parsnips, which just happen to be in season in BC right now as well, so you can feel good about all of this. And I was told you can order it without the bleu claire cheese to make it vegan!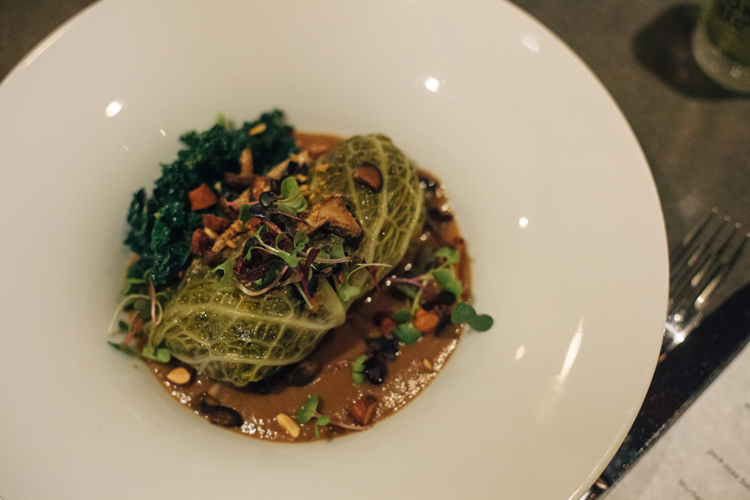 Entree:

Saskatchewan Black Lentil Cabbage Rolls - wild mushrooms, onion jus, rainbow chard

I honestly don't know the last time I ate a cabbage roll, so I was very excited for this one. There's no being dainty when cutting into this dish, so just go for it! It was delicious and hearty without leaving you feeling like you overate (there wasn't a single lentil left on my plate, which also might be a first!). The onion jus paired really well with it, and again the crunch of the toasted almonds alternated well with the otherwise softly textured dish.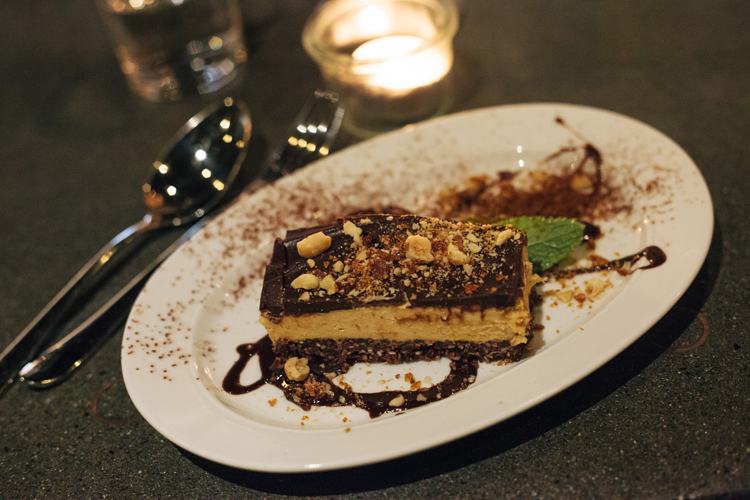 Dessert:

Vegan Peanut Butter Nanaimo Bar

Honestly, you'd never know this was vegan just looking at it. Seriously...look at that. Expertly layered with hard chocolate, soft centre, and coconut crumble on the bottom this was a perfect after dinner treat.

I was totally thinking about pairing this with the Sazerac Tsui Hang cocktail that is served warm and came in a teapot (now you might guess why it is named after the restaurant on Granville & Davie), but was definitely full and content by that time.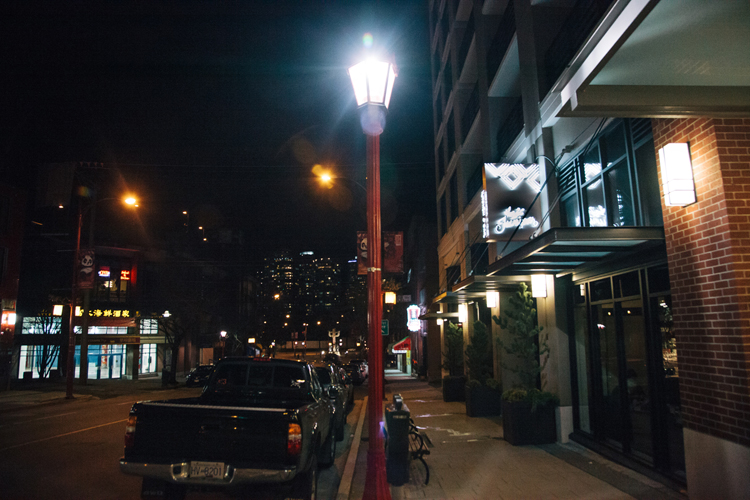 Thanks to Juniper for having me out, and letting me preview their Dine Out options for you all. If you haven't had the chance to check it out yet, now is the perfect time to wander down to Keefer St.!


For more information on the menu, click here.

For more information on Dine Out, click here.

----

all photos by Christine McAvoy

---