It's "Tasty Tuesday", where every week we bring you new, fresh, local, healthy recipes and food tips. Find out what is in season, and what will keep you fuelled during and after your work outs!
Ugh! This weather...though it's hard to complain in Vancouver when you look at the freezing temps around Canada right now. Let's just say winter sucks, and you need some good warm-up food!
I still have tonnes of cod caught from the summer in my freezer that I'm trying to come up with new dishes for (though honestly, I could make cod tacos several times a week), and I've been wanting to try my hand at a Cioppino for a while.
A few years ago while visiting San Francisco, my parents insisted I try the crab cioppino from a restaurant they went to (Cioppino is something of a signature dish of San Fran) - it was delicious and I think about it a lot when it's cold out.
The good thing with this dish is that you can toss whatever you'd like, seafood-wise, in it. Don't like mussels? Focus on the prawns. No cod? Any sustainable white fish can do... Mix and match to your tastes, what's available/in season, and what is sustainable where YOU are.
Make Your Meal Even Healthier Tip:
Make the broth for this stew ahead of time, either a few days ahead OR you can freeze some (or do a big batch and do both). DO NOT freeze the fish/seafood, it will overcook when you de-thaw and it will not be good. Instead, put just the broth in the freezer, and get fresh fish the day you want it, reheat the broth and follow the seafood cooking instructions, and voila! Time saver and an easy/healthy winter warm up!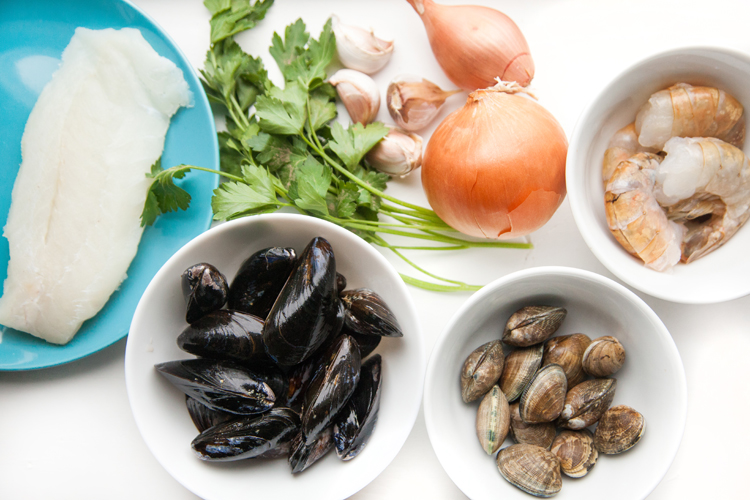 Click through for recipe!...