It's "Tasty Tuesday", where every week we bring you new, fresh, local, healthy recipes and food tips. Find out what is in season, and what will keep you fuelled during and after your work outs!
HAPPY HOLIDAYS!
It's Christmas today, and New Years Eve is coming up fast and I'm sure it feels even faster those those planning parties!
How about starting the new year off right with a healthy, SUPER easy, and delicious hors d'oeuvre that is bound to be a hit.
This chickpea salad (thanks to The Vegan Project for this recipe, from their cookbook: "Vegan Cooking At Home") can be serves on the side, or like above, made into easy to eat finger food.
The prep is quick and you can make it ahead of time, making party planning a breeze.
Make Your Meal Even Healthier Tip:
The Vegan Project says: "Chickpeas are high in fibre and also have a great amino acid profile. When eaten with rice, you have a complete protein. You don't need to eat the rice at the same time - on the same day is just fine." Awesome!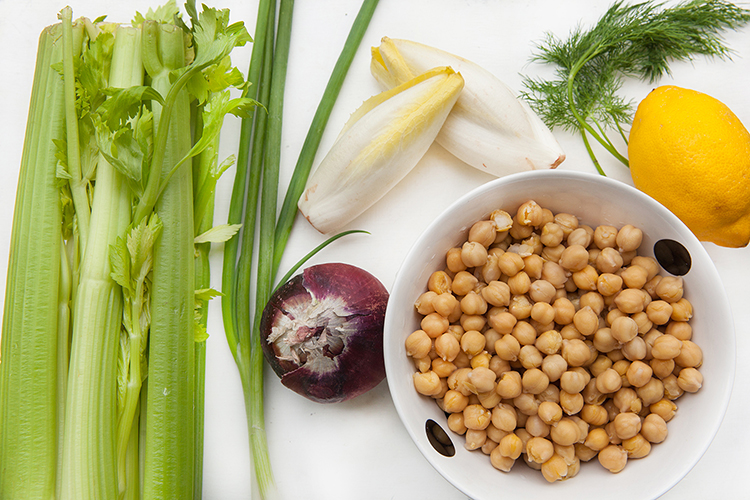 Click through for recipe!...
Makes 20-30 cups depending on the endive size...
INGREDIENTS:
1 can of chickpeas, drained and rinsed (organic or EDTA-free are best)
2 tbsp diced red onions
1tbsp tamari or Braggs
2 tbsp diced celery
2 tbsp of chopped fresh dill
1 tsp kelp powder
zest and juice of half a lemon
fresh cracked pepper
2 tbsp vegan mayo or 1-2 tbsp of olive oil
fresh chives or green onions for garnish
belgian endives (2-3) if making into appetizers
INSTRUCTIONS:
Mash chickpeas (potato masher, fork) and add rest of ingredients and combine well.
You can also use a food processor and pulse to chop.
Let sit in fridge until ready to use - as the flavours will get better with time.
Serve as a side salad or in finger food form on the endives or lettuce.
Let us know if you make this recipe by posting it on instagram or twitter and using the #LiveBarreLife hashtag! And if there are any specific meals, fruits, veggies, or meats, you'd like to see on the blog!
---
photos and recipe by: Christine McAvoy
--