It's "Tasty Tuesday", where every week we bring you new, fresh, local, healthy recipes and food tips. Find out what is in season, and what will keep you fuelled during and after your work outs!
I'm not going to lie to you. I saw purple potatoes and a purple cauliflower and really wanted to make some sort of dish that was purple.
Most stores have purple potatoes in right now, and some of the bigger and specialty stores have purple cauliflowers, but you can find everything you need at the farmers markets, like I did!
Make Your Meal Even Healthier Tip:
This soup is pureed so you can add a lot into it if you desire. I made sure to use my homemade vegetable stock, so that I could keep the sodium down. The soup definitely requires a lot of salt, but knowing you're starting with none is key to keeping the intake down!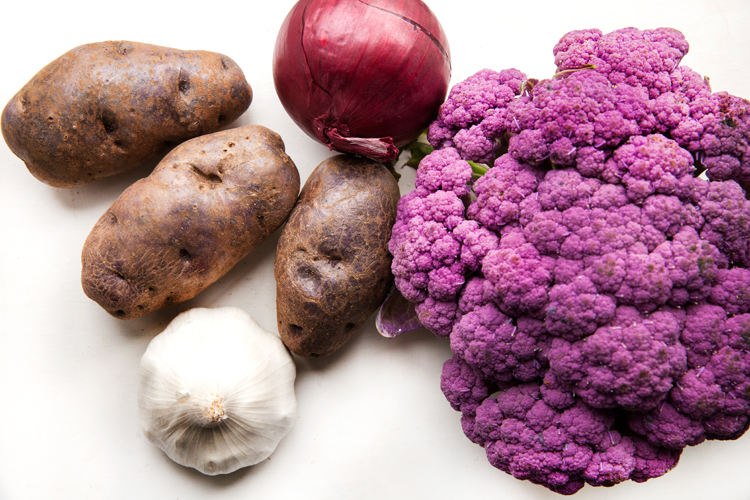 Click through for recipe!...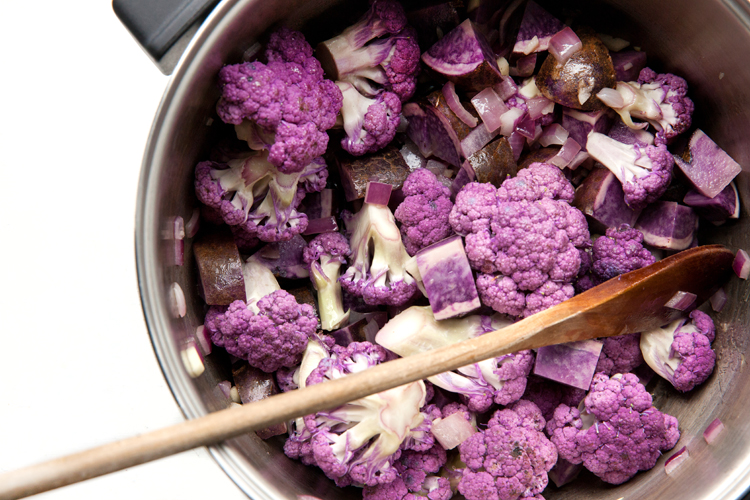 Serves 4-6
INGREDIENTS:
- 1 medium to large head of cauliflower
- 1 lb of purple potatoes
- 1 medium red onion, chopped roughly
- 3 cloves of garlic, chopped
- 3 cups of vegetable stock (more in case you need to thin the soup)
- fresh thyme (1 tsp, for spices in soup, some for garnish)
- 2 tsp salt (more to taste as you cook)
- 1/2 tsp nutmeg
- 1/2 tsp cloves
- freshly ground pepper and salt to taste
- 2 tbsp olive oil
INSTRUCTIONS:
Scrub the potatoes clean, remove the eyes. You can peel them if you wish but there is no need. Chop into one inch(ish) cubes.
Chop the cauliflower into medium sized florets. Leave one aside for garnish if desired.
In a heavy bottom pot, heat the olive oil over medium high heat. Add the chopped onion and the garlic, and stir, cooking until soft and fragrant.
Add the cauliflower, potato, and vegetable stock. Bring to a boil, and then cover with lid, and turn down heat to medium and gently cook until the veggies are soft (you can stick a fork in them easily).
Remove pot from heat, and either using a blender, or an immersion blender, puree the soup (in batches as needed), and if they soup is too thick, as some more vegetable stock (or water) until desired consistency.
Return soup to pot (clean if there are chunks leftover), and set to medium heat (do not boil) and stir in spices.
When read to serve, place in bowls and garnish with thyme sprigs and cauliflower florets.
Let us know if you make this recipe by posting it on instagram or twitter and using the #LiveBarreLife hashtag! And if there are any specific meals, fruits, veggies, or meats, you'd like to see on the blog!
---
---