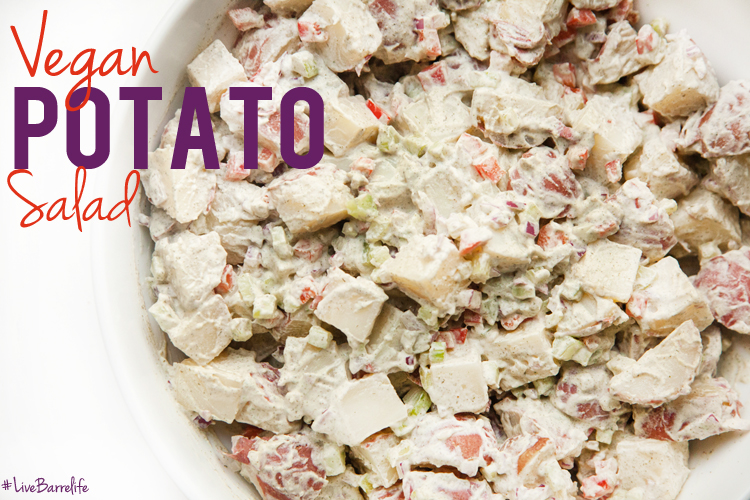 It's "Tasty Tuesday", where every week we bring you new, fresh, local, healthy recipes and food tips. Find out what is in season, and what will keep you fuelled during and after your work outs!

It's almost Labour Day and the weather is still pretty great. So if you're having a BBQ, here is a perfect, vegan potato salad that everyone should love!

Make Your Meal Even Healthier Tip:

If you need to go nut-free, there are tons of other vegan dressings out there on the internet. Small potatoes of different colours are now in season (purple, red AND white), so be sure to grab some from the farmers market this weekend! Also, throw as much veg as you want in this recipe. There are beautiful purple peppers out there now, which would be fun instead of the traditional red pepper (or both!).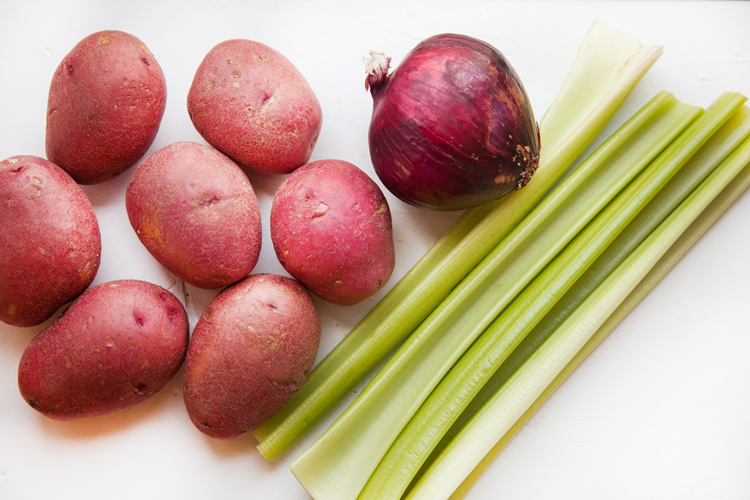 Click through for recipe!...


Serves 6+

INGREDIENTS:

- 1lb of baby potatoes (tri-colour!)
- 1/2 cup red onion, diced
- 1/2 cup celery, diced
- 1/2 cup of red (or purple) pepper, diced
- (other good options: cucumber, carrots, radishes etc)
- 4 tbsp of fresh dill, chopped (or about 2.5 tbsp of dried)(more to taste)
- 1 tsp Italian seasoning
- 1/2 tsp sea salt
- 1/4 tsp pepper
- 1/2 tsp fresh flat leaf parsley, chopped
- 2 cloves of garlic, finely minced
- 3/4 cup raw cashews
- 2 tbsp apple cider vinegar
- 1 tsp maple syrup
- (optional: dijon or hot mustard, or some dried mustard, all to taste)
- splash of lemon juice

INSTRUCTIONS:

Soak cashews in boiling water for a minimum of 1.5 hours, if not 2.

Put potatoes in a pot with enough water to cover them, bring to a boil and then cook on a lower setting for 15 mins. DO NOT OVERCOOK. Check the potatoes after 10 mins by sticking a fork in and if it comes out easily, they're done. They may need longer, depending on the size of the potato.
Drain and cool. Then chop into halves or quarters, depending on the size - just keep them bite-sized!

Drain the cashews and put in either a high powered blender or an immersion blender, add dill (reserving some for garish later), Italian seasoning, salt and pepper, parsley, garlic, apple cider vinegar, maple syrup, optional mustard and lemon juice. Add about 1/4 cup of water (more if too thick). Blend until smooth, and then adjust to taste (more dill, or garlic, or vinegar, or more maple syrup for more sweetness).

Place potatoes in a bowl, add the chopped veg, and stir in the sauce, until well coated.
Sprinkle some of the dill on the top, cover and refrigerate until cold. This can easily be made the day before needed, and tasted even better after having time to sit!





Let us know if you make this recipe by posting it on instagram or twitter and using the #LiveBarreLife hashtag! And if there are any specific meals, fruits, veggies, or meats, you'd like to see on the blog!

---

photos by: Christine McAvoy

---