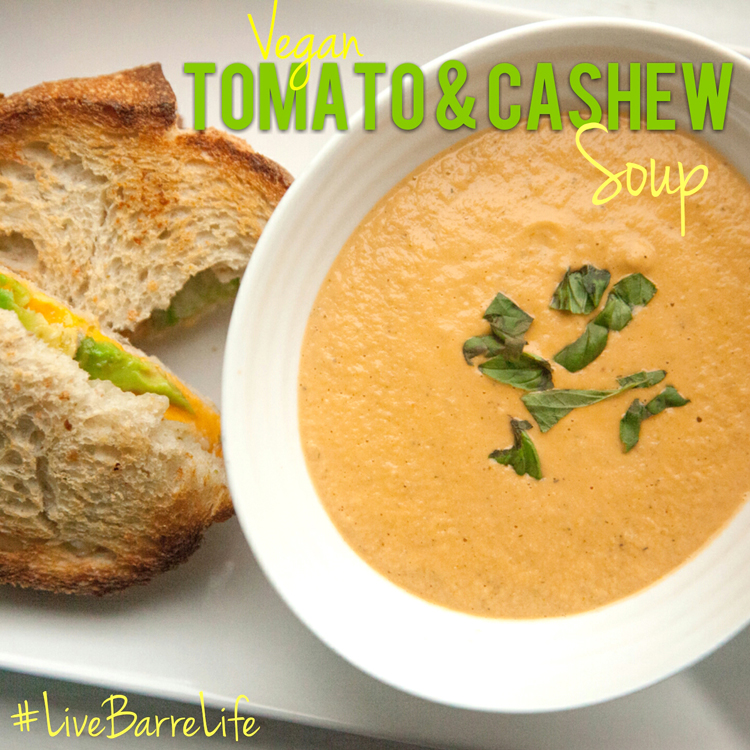 It's "Tasty Tuesday", where every week we bring you new, fresh, local, healthy recipes and food tips. Find out what is in season, and what will keep you fuelled during and after your work outs!

UGH, Winter is coming! And so is cold and flu season, which has already arrived for me. All I wanted was warm comfort food. A pureed soup that I could eat, and maybe a grilled cheese to dunk into it.
So I set about making the healthiest version of the Tomato Soup & Grilled Cheese that I possibly could, and boy did it turn out delicious. And dairy-free. And vegan. I recommend making a big batch of the soup and freezing some for the next time you're feeling down and out, or cold and lazy. Or, share some with your friends and neighbours. I did both!

Make Your Meal Even Healthier Tip:

The soup is about as healthy as you can get, the sandwich is what needs your attention. Be sure to pick a good healthy bread...a vegan whole wheat, or multi-grain, but get a good loaf that you can get some thick slices out of! You can add more greens to the sandwich too with spinach or kale. I just loaded it up with avocado.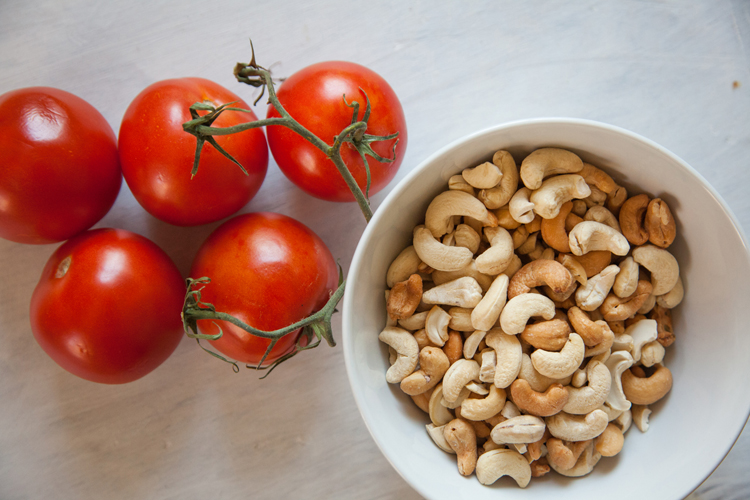 Click through for recipe!...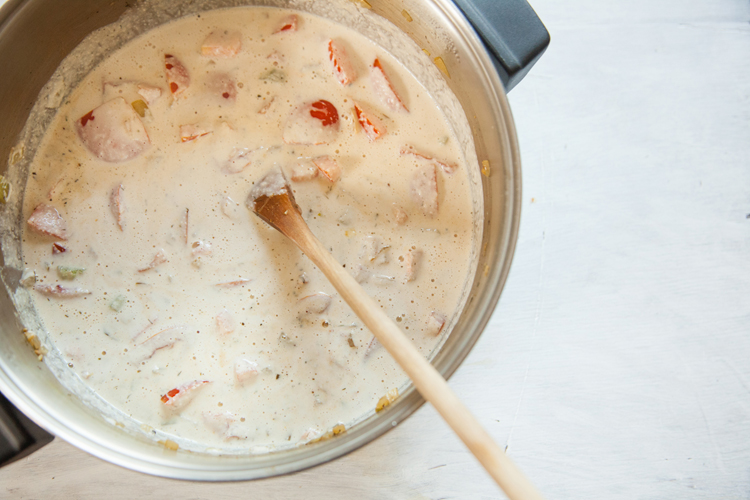 Makes approx 4-6 cups of soup.

INGREDIENTS:

- 5-6 preferrably fresh tomatoes (if in season) or a large 796mL can of whole (or diced) tomatoes
- 2 cups soaked cashews*
- 2 cups water
- 1 or 2 large onions - chopped (approx 2 cups worth)
- 1/2 cup chopped celery
- 1 tbsp of olive oil
- 4 cloves of garlic, chopped
- 1 tsp curry powder
- 1 tsp of dill (dried)
- 1 tsp of basil (dried)
- 1/2 tsp of fennel (ground)
- 1/2 tsp of cumin (ground)
- 1/2 tsp of coriander (ground)
- 1/4 tsp of cloves (ground)
- chopped fresh basil for garnish
- salt & pepper

For Grilled Cheese:
- pick some vegan cheese (I used 'cheddar' and 'havarti')
- choose your other items, avocado was my pick, but spinach or other leafy greens are good too!
- healthy thick-cut bread

INSTRUCTIONS:

*Soak cashews overnight or for at least 3-4 hours.
Drain cashews and place in a blender (or using an immersion blender) ground them down with one cup of water. Add the second cup in until it's a smooth mixture. Set aside/leave in blender for now.

In a heavy bottom pot, heat the oil (on medium heat) and add the onions and celery, stirring frequently, and add a little more oil if needed.
Add in some salt and the garlic, and continue to cook until translucent.
Add all of the spices and stir to combine, then cook for an additional minute.

Add in the tomatoes (if using fresh, chop them into quarters first), and pour in the cashew mixture, stirring and breaking the tomatoes up further with a wooden spoon.

Simmer on low for about 12 minutes, and stir frequently, making sure the bottom isn't burning.

Once cooked, blend until smooth (can be done in batches) in a blender or with the immersion blender.

Return to the pot, and stir to combine the batches. Taste and add additional seasoning if desired (more spice, or maybe add some lemon juice).

Serve with chopped fresh basil (or parsley if that's what you have).

Freeze leftovers for a few months.
*Modified from THIS recipe*


GRILLED CHEESE:

I broiled mine, open face in the oven so the cheese would melt, then added slices of avocado, closing the sandwich and toasting each size in the oven until brown. You can do this in a panini press as well if you have it, the oven just doesn't require buttering the outside of the bread!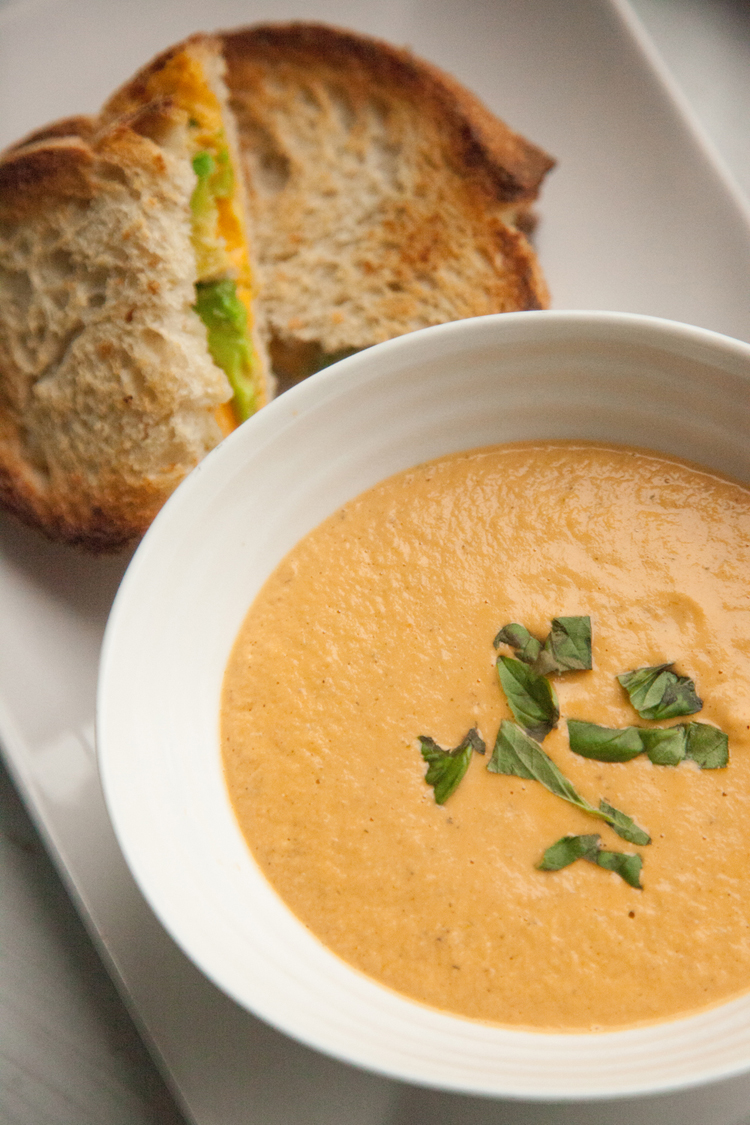 Let us know if you make this recipe by posting it on instagram or twitter and using the #LiveBarreLife hashtag! And if there are any specific meals, fruits, veggies, or meats, you'd like to see on the blog!

---

photos by: Christine McAvoy

---