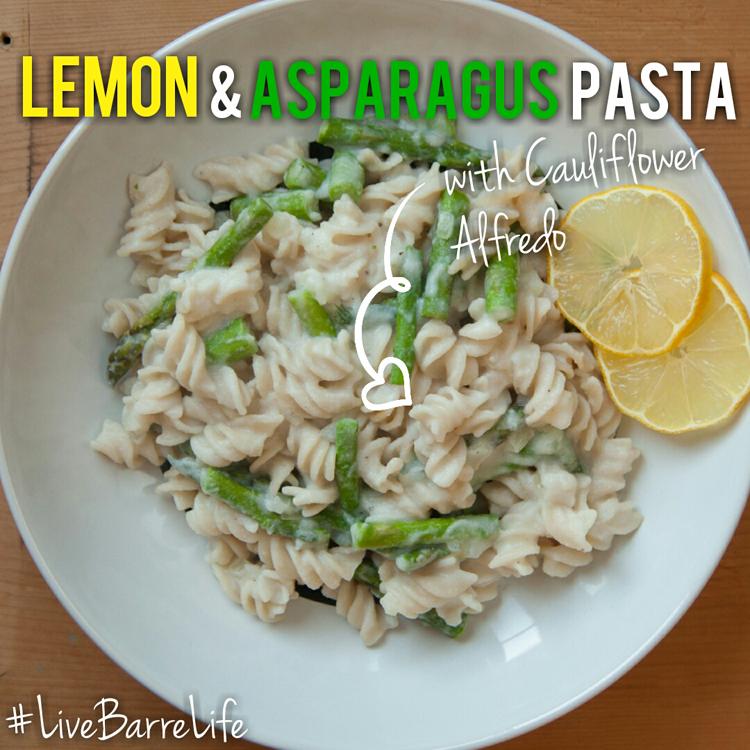 It's "Tasty Tuesday", where every week we bring you new, fresh, local, healthy recipes and food tips. Find out what is in season, and what will keep you fuelled during and after your work outs!

One of the main veggies I think about when I think Spring is asparagus. That said, it's not everyone's favourite (though it should be, check out these health benefits), so if you're not feeling it, substitute fresh and local peas. No matter what, as a base you're going to love this dish and the sauce is dairy free, but you'd never know it. Plus it's super easy!

Make Your Meal Even Healthier Tip:

As always, you can substitute pasta for green noodles like zucchini, but if you are craving the actual thing, like I was, pick a brown rice one, enriched wheat ones, or gluten free.

Click through for recipe!...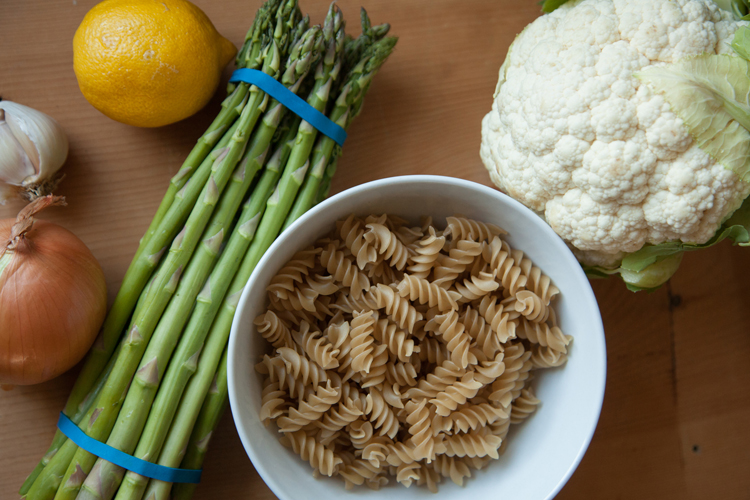 Serves 2 (or more depending on portion size)

INGREDIENTS:

- 1 tsp + 1 tbsp of coconut oil
- 4 cloves of garlic - minced
- 1 medium sized head of cauliflower (cut into florets)
- 1 cup water
- 1/4 cup of almond milk
- the juice of one small lemon (approx 3 tablespoons)
- 1 tsp sea salt
- fresh ground pepper
- 1 small onion - chopped
- a small bunch of asparagus approx 15-20 stems


INSTRUCTIONS:

Prepare the pasta as you normally would, run under cold water to stop the cooking process and set aside.

Melt the teaspoon of coconut oil in a pot (with a lid) and add the minced garlic, sauté until fragrant (about 1 min).
Add the water and cauliflower, bringing it to a boil and then covering it with the lid. Reduce the heat until it is at a simmer, and steam until tender, which should take 10-15mins.
Once you can pierce the florets easily, transfer everything, including the water into a blender or food processor.

Add the almond milk, lemon juice, salt and pepper. Blend until smooth. If it is too thick for your liking, you can add a splash more almond milk or water.


In the same pot you used, melt the tablespoon of remaining coconut oil over medium heat, and the sauté the onion for 4-5 mins.
Cut or snap off the ends of the asparagus and then chop them into 1 inch pieces. Then add them to the pot, and sauté with the onion for about 10 more mins.

Toss in the cooked pasta (you might need to rinse it quickly to un-stick it) and pour in the sauce to combine.
Serve with additional salt & pepper to taste/as needed. And garnish with lemon if you have it handy.

Enjoy!


Let us know if you make this recipe by posting it on instagram or twitter and using the #LiveBarreLife hashtag! And if there are any specific meals, fruits, veggies, or meats, you'd like to see on the blog!

---

photos by: Christine McAvoy

---