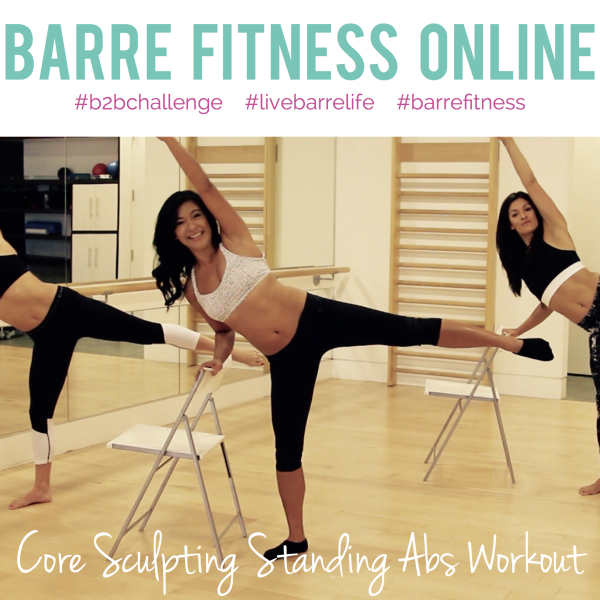 ---
It's Workout Wednesday and this is one of our fave FREE Barre Fitness online workout videos!
Our Core Sculpting Standing Abs Series Workout routine will improve balance while shaping your midline and focuses on the most important muscles in your body - the core! Your core muscles are the body's foundation for everything you do, from walking to the grocery store, to picking up your baby out of the crib and playing your favourite sport. You'll want to have a chair handy or a sturdy piece of furniture near by, like a park bench or kitchen counter to use for balance.
3 Core Sculpting Standing Abs Workout Tips:
1. AMP IT UP! Combine this workout with our No Weights, No Worries Glute, Core + Push Ups Workout
https://youtu.be/aozPX9SSXdw
2. Keep the CORE muscles ENGAGED throughout, bend and curl through your abs. Do not grip with your hip flexors, soften them and let the abs do the work.
3. MODIFY! If the progressions in the video are too difficult to begin with, feel free to repeat the movements that work for you. Do not progress to a balance if you are not ready… keep working and you'll be pulsing with your leg extended in no time!
* Remember to maintain your BARRE POSTURE throughout your workout - LEARN MORE HERE
https://www.youtube.com/watch?v=saq_gaIF18o
Are you participating in the Back to Barre Fitness Challenge?
CLICK HERE
and post a comment below to receive a bonus check mark on the challenge board at your local studio! (max. 1 bonus check mark per week)