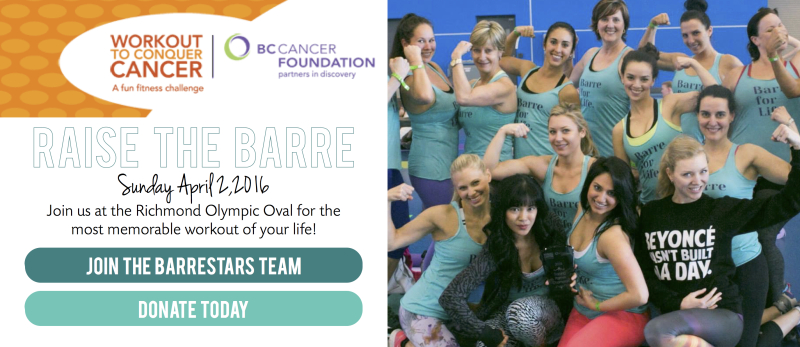 We are on a mission to conquer cancer.
On April 2, 2016, Ella Jotie, Co-Founder & Creator of Barre Fitness will be returning as an official Ambassador and Guest Instructor of "Rock Your Core - Barre Fitness Style"!
The award winning Barre Stars Team be participating in this day-long fitness fundraising event that will have us lunging, squatting and downward dogging with hundreds of others who have committed to making a serious impact in the effort to conquer cancer.
Many of us at Barre Fitness have witnessed first hand the devastating effects of cancer. We are dedicating this day to our family, friends and loved ones who've lost their battle and those that continue to fight to conquer the disease.
Please consider
making a donation
to our team and making a difference in the lives of over 24,000 British Columbians who will be diagnosed with cancer this year.
Better yet…
JOIN OUR CREW!!!
Calling all BFFS - Barre Fitness friends, family and CLIENTS…
CLICK HERE
to join us and take on the challenge and Workout to Conquer Cancer as we fundraise and train together for this important cause.
Thank you for helping us Workout to Conquer Cancer.
See you at the barre!